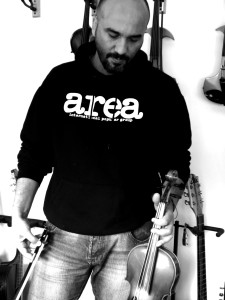 Marco Valentino is a composer, musician and producer, born in Alghero, Italy.
After classical training he is involved in research and experimentation on the musical cultures of the Middle East, Asia, Africa and northern Europe, next to the electronic experimentation.
In addition to the violin, his main instrument also in electric 5 and 6-strings versions, he plays viola, piano and synthesizers, vocals, guitars, Arab lutes and percussion.
His goal as a composer and musician is to keep the communicability of languages ​​learned through research, focusing on a communication channel that is not intellectual but emotional.
Since 1995 he is responsible for the composition and production of music for theater, dance, video, tv commercials and movies.
Marco Valentino è un compositore, musicista e produttore nato ad Alghero (SS).
Dopo la formazione classica svolge un percorso di ricerca e sperimentazione sulle culture musicali medio-orientali, asiatiche, africane e nord-europee, accanto alla sperimentazione elettronica.
Oltre al violino, suo strumento principale anche nelle varianti elettriche a 5 e 6 corde, suona viola, pianoforte e sintetizzatori, voce, chitarre, liuti arabi, percussioni.
Suo obiettivo come compositore e musicista è mantenere la comunicabilità dei linguaggi appresi con la ricerca, privilegiando un canale di comunicazione non intellettuale ma emotivo ed emozionale.
Dal 1995 si occupa di composizione e produzione di musiche per teatro, danza, video, spot tv e film.