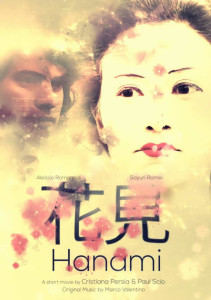 Hanami, a short film written and directed by Cristiana Persia and Paul Scio.
Original Music by Marco Valentino
The deep suggestion for a different culture and a meeting with a woman in an intense and perfect story … ephemeral and glaring as the blossoming of a sakura.
Hanami. Premiered on the big screen next Saturday, June 8, 2013 at 17:45 and replication Sunday, June 9 at 13.45 at the Teatro Tendastrisce, Via Perlasca, 69, plans to billboard part of the "Roma Fumetti and Co".
With Alessio Romagnoli and Sayuri Romei.
Listen to the first single from the soundtrack:
Hanami, un cortometraggio scritto e diretto da Cristiana Persia e Paul Scio.
Musiche originali di Marco Valentino
La profonda suggestione  per una cultura diversa e l'incontro con una donna, in una storia intensa e perfetta… effimera ed abbagliante come la fioritura di un  sakura.
Hanami. In prima assoluta su grande schermo il prossimo sabato 8 giugno 2013 alle 17.45 ed in replica  domenica 9 giugno alle 13.45 al Teatro Tendastrisce, Via Perlasca, 69,  in programma di cartellone nell'ambito della manifestazione "Roma Fumetti and Co".
Con Alessio Romagnoli e Sayuri Romei.
Ascolta il primo estratto dalla colonna sonora: